Belt Conveyor Pulleys
Axon Sazeh manufactures all kinds of Belt Conveyor Pulleys. Pulleys will be balanced after machining, friction rubber lining on pulleys (drums) will execute in cold or hot methods.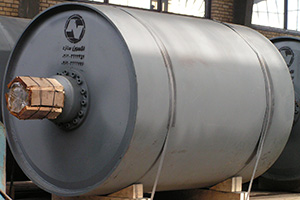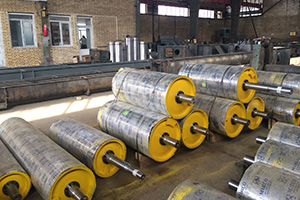 Belt Bucket Elevator Pulleys
Drive and Driven pulleys (drums) will be manufactured for Belt bucket Elevators. Drive pulley (drums) friction lining layer is added to main body of drum and can be exchanged without unfastening the belt. Driven drums are manufactured using the high carbon steel rods. All pulleys will be balanced after machining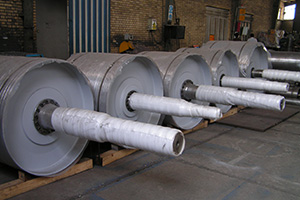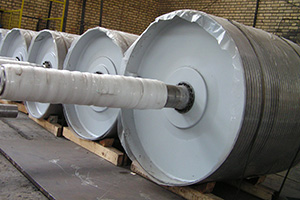 Idlers
Idlers are one of the most important items in material handling systems. The quality and performance of idlers can increase the life time of the system. We can manufacture high quality Belt Conveyor idlers in various lengths and diameters. Good sealing, balance, anti-dust components, bearings, and high quality rubber discs, ensures the quality and reliability of our idlers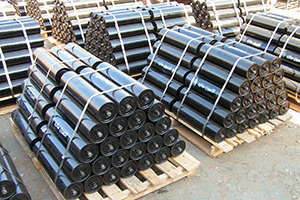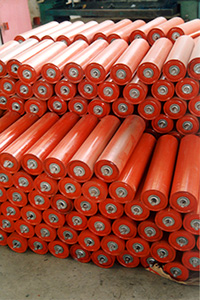 Sprockets
Sprockets, teeth segment rim, play an integral role in chain conveyors such as: clinker transport system, chain bucket elevators, Drag Chains, Apron Feeders, etc. selection of raw material, precise machining and hardening the sprockets.
Axon Sazeh can manufacture sprockets with its valuable experience in this field affects their performance dramatically.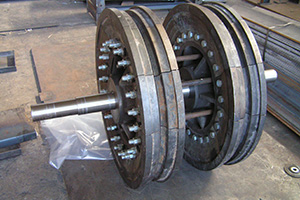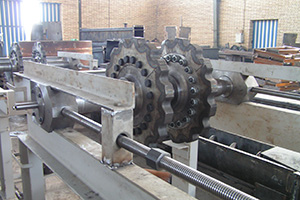 Clinker Transport Chains
Clinker transport chains are manufactured in the following sizes:
250 × 30 / 50 × 8
250 × 45 / 70 × 10
250 × 60 / 80 × 10
250 × 60 / 90 × 12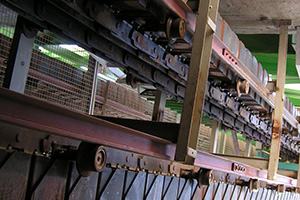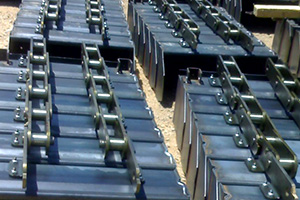 Drag Chain & Reclaimer Chains
All other kinds of clinker transport chains in forged, link or other pitches can be manufactured in our shop
We also produce other kinds of chains. Such as chains for reclaimer, Drag Chain, slat conveyor, chain conveyor, and etc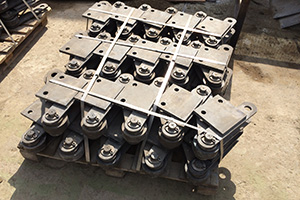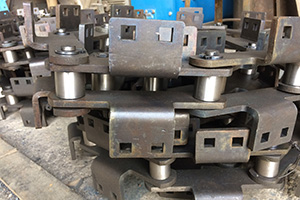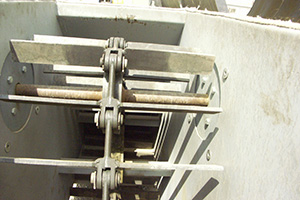 Clinker Transport Rollers
The body of the rollers, for clinker transport conveyor is made of forged steel. Using metal anti-dust rings, high quality bearings, good sealing our rollers can compete with the original. The selection method for hardening the roller body increases the life time of the operation. Rollers will be manufactured in two sizes: Ø140 & Ø200 mm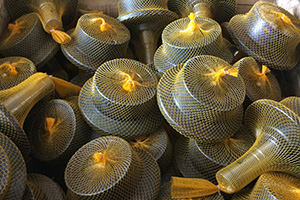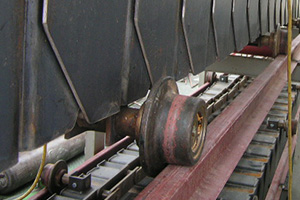 Clinker Transport Buckets
Clinker transport buckets will be produced in 600 mm to 1200 mm width and 200mm to 450 mm wall height. We manufacture the wall and bottom plates of buckets by using press machine with similar forming bends, so it helps to assemble buckets on each other completely matched and prevent any leakage of material.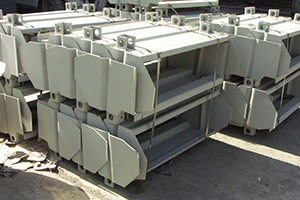 Buckets for Elevators
Axon Sazeh have all the facilities for producing all kinds of chain and belt bucket elevators.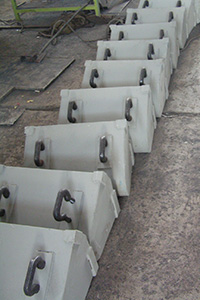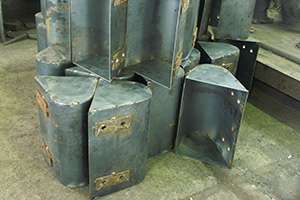 Locking Device
Grate Basket